Well that was a humdinger of a year! So many highs, so many lows. But still, we've managed to eat, drink, watch, shop, play, move, rest and more. Here's our annual round-up of highlights. 
First up, it's Jennifer Sampson, our creative director. Here's her 2021 reflections. 
What I loved
On the surface the immediate answer is "not much" but I've dug a little deeper into the memory bank and indeed, there are some golden nuggets of joy: 
Ben and Jen getting back together aka Bennifer 2.0 (the one that got away love) 

Being vaccinated (science love) 

The

Friends

reunion (nostalgic love) 

Mare of Eastown

(regrowth on Kate Winslet love) 

The Olympics (unexpected sports love) 

Everyone's lockdown releases coming out (Adele new breakup album love, Dave Grohl's biography beard love) 

Architectural Digest

Open Door home tours on You Tube (vicarious love) 

Gladys (she was everyone's 11am love this year) 
What I did: 
I spent a lot of time moving house! I moved house not once but twice in 2021 which I don't really recommend during a global pandemic! But there is no straight line when it comes to life. I think we have all learnt that the hard way in the annus horribillis of this year. I could do an online seminar on how to move houses with military precision now. I am now deep in the renovation weeds, so I've shelved my packing skills. Instead, I'm now channelling my interior designer with mood boards aplenty and home DIY'er. 
What I ate:
My husband and I have a great passion for food and it's really your worst nightmare when your kids are picky eaters and you are either making 25 meals a night or restricting where you are eating out. Our 14 year old has a great palette but our 12 year old is still pretty particular. We challenged him this year by getting him to try something new at least once a week. Hot tip: if you put the word 'challenge' after anything, a You-tube educated pre teen will be up for it. For example, we set a "2021 Tastebud Challenge". Both kids became curry aficionados this year which was awesome. Their favourite is this perennial chicken curry by Neil Perry and this super easy curry recipe from Jools Oliver which is a great mid weeker.
Side note: my kids love when I make Annabelle Crabb's glass potatoes with pretty much anything. It makes a great accompaniment dish for some more adventurous mains they might not be too sure about. Of course there weren't many opportunities to eat out and try new places for a big part of the year but I really love the ramen kits from Rising Sun Workshop. So nourishing and full of flavour.  I love supporting my local area and Rising Sun is just up the road in Newtown. 
What I read:
The Paper Palace by Miranda Cowley Heller was my highlight read of 2021. With an explosive introduction it had me gripped in its cinematic throes from the get-go. Set against a long summer backdrop spanning 25 years and concurrently 24 hours it's the perfect beach/pool read for the holidays. Cowley Heller is the former Head of Drama at HBO and it shows in her rich character development and pacing in this absorbing literary love story.
What I bought:   
Paint. So much paint. I found the most brilliant independent paint store near me and dramatic pause they DELIVER! Never will I stand at the Bunnings paint counter again! Rejoice! I've absolutely rediscovered my love and transformational power of paint. 
What I watched: 
Insomnia played a big part of my 2021. As I'm getting older it seems to be a friend that is coming to visit more often. When it strikes, if I've already had a few hours sleep, instead of thrashing around in bed I resign myself to it and get up and binge watch great TV or I work. Then trot back off to bed for a few more hours if I can. So unsurprisingly I pretty much watched everything good released in 2021! 
Sex Education / Love & Anarchy / The Chair / Maid / Master of None / Halston / Call My Agent / It's a Sin/ Hacks / Superstore / Succession / Yellowstone / The Undoing / Mare of Eastown / Scenes from a Marriage / Mr In-between / The Assistant / Euphoria / The White Lotus / Sandition / I May Destroy You / Ted Lasso / Modern Love / Morning Wars / Zoey's Extraordinary Playlist / This Way Up / Love Life / Defending Jacob / Long Way Up / Watch the Sound with Marc Ronson / Only Murders in the Building 
THE JONES BAROMETER
What went up for me this year?
Fashion, I'm so here for pushing the boundaries as we close out 2021. I think we spent so long in trackies and activewear this year we all need to celebrate with a little more pizazz now we are officing, lunching and celebrating again! How good was the Met Ball when everyone emerged from their Covid cocoon? We've had all the time to go through our wardrobes and do the Marie Condo Covid clean out and unearth gems buried in there!  

Table scaping: Going all out on the table setting for the joy of having people over, gorgeous tablecloths, placemats, mix and match glasses, patterned plates and bowls all trimmed with florals and fruit. We have so much tableware in the works for next year – obsessed! 
What went down for me this year? 
All the beige and boucle. Not that it was ever really on my hot list but I'd love to see the back of this boring minimalist cookie cutter phase in interiors. If you love it, keep it and treasure it forever but I'd love to see more personalisation in homes again and less tick and flick list decorating.

Covid buzzwords are a hard pass too. The only time I want to hear the word "pivot" again is in a

Friends

meme with Ross's face.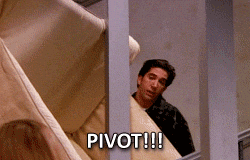 Next, it's Jennifer Jones, our founder and director. What were the highlights of her year? 
What I did: 
Got a tattoo! It's been 28 years between tattoos and I don't know why I decided to have another one but once I found @pawsk on Instagram I fell in love with his fine line work. I got my daughter's name on the inside of my arm and it's so simple and captures her five-year-old innocence. I have now got the bug and have already booked in for my next one! 
What I ate:
When Sydney's lockdown ended you could find me furiously booking restaurants back to back. I love dining out and there's nothing like a meal shared with friends. One of the highlights has to be Bistrot 916 in Potts Point. After a lot of shared meals with lots of courses it is absolutely tres chic to go back to the roots of good French bistro cooking. 
The menu is super simple yet executed perfectly by divine waiters in whites. When I asked our waiter what the Oeufs mayonnaise was I did not expect him to say "it is a hard boiled egg cut in half  with mayonnaise on top". That is the secret of good cooking, it doesn't need to be fancied up with hundreds of ingredients. I took this experience home and now for summer we are enjoying much simpler meals: a Salad Niçoise and a glass of rosè is a wonderful mid-week dinner! 
It's also made me change up the way we do our food shopping. Instead of doing one main shop at the weekend I'm really enjoying popping into Harris Farm a few times a week and buying what looks good that day and then coming up with a way to cook it. I think Bistrot 916 has turned me French! 
What I am very much looking forward to eating on Christmas Day is this trifle by Andy Bowdy which I have ordered! I've been waiting for a Christmas Day with enough people to justify it and this is the year! 
What I read:
I hit a lot of big heavy books this year – A Little Life and Shuggie Bain are both not light in size or topic! (but both absolutely incredible). My latest favourite is The Lincoln Highway by Amor Towles who wrote A Gentleman in Moscow. He is a master storyteller and he creates such nuanced characters that are both realistic and endearing. I purposely read this as slowly as possible as I was enjoying the road trip so much.  Here's a great review to read before you buy it!
What I bought:  
I know there are a crazy amount of opinions on this out there. But I think I may have actually found it. The mascara that doesn't smudge, flake off or leave you with panda eyes. Until this moment the only one I could find was from the Japanese store Miniso which I had to buy in Manila (and only cost $12!) It is  Kevyn Aucoin The Volume Mascara. This is a tubing mascara which means it coats each individual lash like a tube. So when you go to wash it off, each one slips off. I stress tested this with a day on the beach followed by afternoon sidewalk wines and it did not budge! You are welcome. 
What I watched: 
Here's something left of centre! I love good adverts and these two this year really caught my eye. Bet you didn't expect that!  First up: When Harry met Santa Secondly: This one has a backstory which I'll share after you've watched it. So the backstory here is the ad isn't actually for Durex, someone just bunged their logo on the end for a joke. It's actually for a home insurance product. But the ad had to be pulled since it was misleading as the insurance policy didn't cover for deliberate damage only accidental. Anyhoo it really brought a smile to my face! 
THE JONES BAROMETER
What went up for me this year?
This really was the year of the home (since we spent so much time within its walls) and what I really loved was this new emerging realisation that our homes need to be a personal reflection of who we are and our histories. There are lots of interior designers who are really fore-fronting this such as Beata Heuman and Matilda Goad. It's the opposite to minimalism or picking a style such as 'scandi' and then pushing that onto your living space. It is layered, joyous, personal and customised and I lapped it up! 
What went down for me this year? 
There's been so much wrong with this year and frankly the biggest downer was the constant bad news. I decided mid-year to really concentrate on the amount of news I took in and what calibre it was. I concentrated more on reading The Times Online and ditched the flakey news sites which promoted click bait style tragedies. I'm still trying not to have my phone in the bedroom - that may be a 2022 NY resolution!