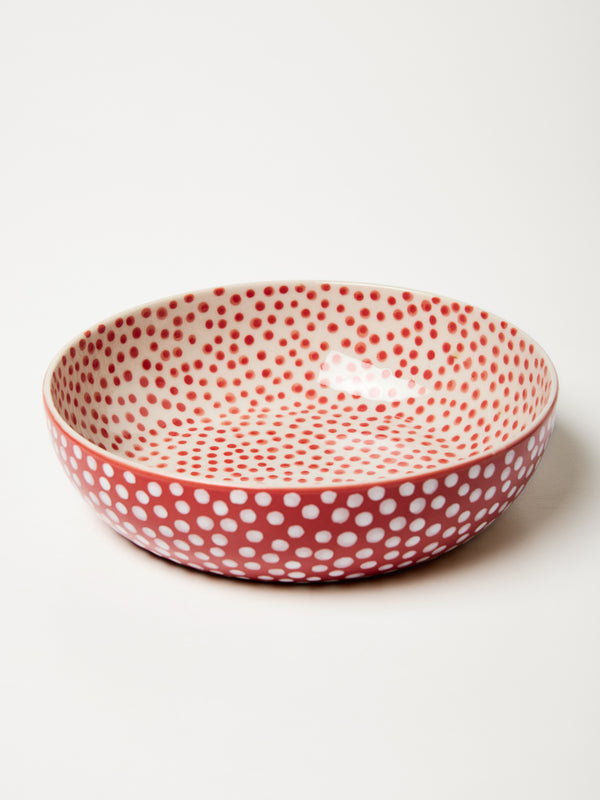 Care Instructions
Microwave and dishwasher safe.
Country of Origin
Hanoi, Vietnam
Dimensions
L: 15.5cm W: 15.5cm H: 4.5cm
Description
Hundreds of tiny polka dots cover this handy-sized earthenware bowl. Contrasting in red and white, the union of these two colours creates a vibrant mood on your table. Bring some zest to your everyday meals with this cheery bowl. It teams beautifully with with the rest of the Chino range of butter dishes, egg cups, platters and mugs. Designed in Sydney and handmade in Vietnam by Jones & Co artisans.
Smash-free Guarantee
Hassle-free returns
Handmade and Handpainted
Designed in Australia
Handmade and Handpainted
Smash-free Guarantee
Australia-wide delivery
Meet the Maker
Everything we make is touched by hand. We believe in small runs made with the highest level of attention to detail. 

We collaborate with our factories to understand techniques and processes. If you would like to learn more about our artisan makers, read our blog series on each of our makers.
READ THE BLOG