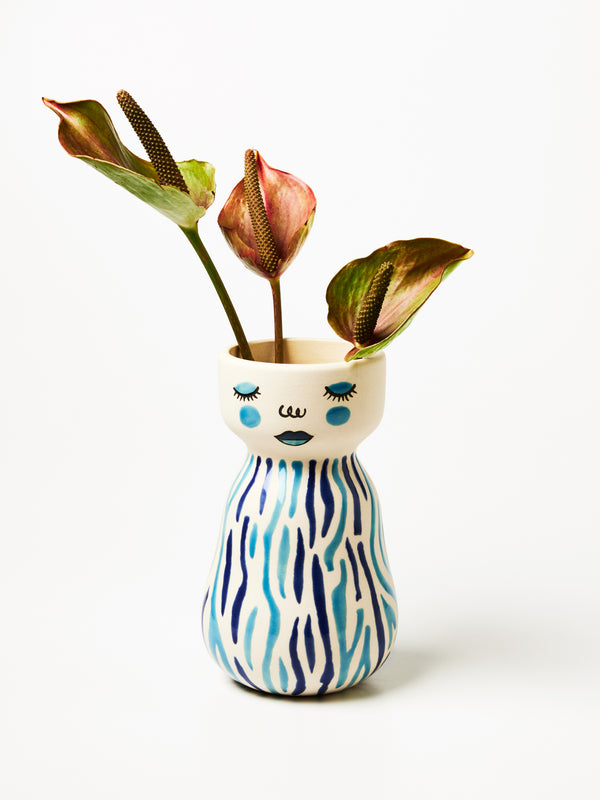 Care Instructions
Spot clean with mild detergent, do not suberge. Although sealed, due to the pourous nature of clay, flowers and water should be removed promptly after use. Spot clean with mild detergent, do not submerge.
Country of Origin
Ho Chi Minh City, Vietnam
Dimensions
L: 11.5cm W: 11.5cm H: 20cm
Description
With a sweet hand-painted face in blue and an abstract animal print body, Beatrix works well in any space. Present alone or in a grouping of vases and vessels on your sideboard full of fresh blooms for an abundant and playful display. Designed in Sydney and handmade in Vietnam by Jones & Co artisans.
Designed in Australia
Smash-free Guarantee
360 Degree Design
Great Gift
Designed in Australia
Handmade and Handpainted
Smash-free Guarantee
Australia-wide delivery
Meet the Maker
Everything we make is touched by hand. We believe in small runs made with the highest level of attention to detail. 

We collaborate with our factories to understand techniques and processes. If you would like to learn more about our artisan makers, read our blog series on each of our makers.
READ THE BLOG